Komatsu America Corp. Recognized by City of Los Angeles For Commitment to Green Technology
---
March 22, 2010
Hybrid PC200LC-8 Excavator at work at the Port of L.A.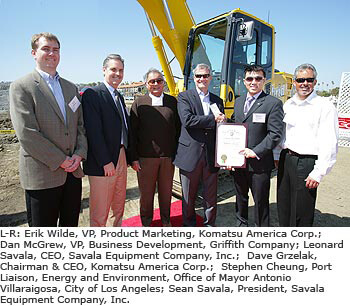 Rolling Meadows, IL — Komatsu America Corp. was recognized by the Office of Los Angeles Mayor Antonio Villaraigosa for its commitment to green technology and its Hybrid PC200LC-8 Excavator. Chairman and CEO of Komatsu America Corp., Dave Grzelak, accepted the Certificate of Recognition from Los Angeles from Stephen Cheung, Vice President Mayor's Office of Economic and Business Policy, City of Los Angeles, and representative of Mayor Villaraigosa.
"I want to recognize Komatsu and their partners for bringing this innovative technology to the City of Los Angeles and the Port of Los Angeles," Cheung said. "The Mayor has set a very high goal of greening and growing the port at the same time and this hybrid technology will contribute to both goals."
The Komatsu Hybrid PC200LC-8 Excavator is one of a number of other kinds of "green" machines that the Port of Los Angeles has introduced or tested, resulting in reduced diesel emissions that comply with a Clean Air Action Plan that was adopted in November 2006 by the ports of Los Angeles and Long Beach. Mike Christensen, Deputy Executive Director of Development for the Port of Los Angeles noted that the Komatsu Hybird PC200LC-8 "joins an elite fleet of low emission workhorses" at "the country's largest container port."
Komatsu introduced the first of ten Hybrid PC200LC-8 excavators into the U.S. market to test the innovative equipment designed to reduce environmental impact by saving fuel and reducing green house emissions. Currently, there are 700 Komatsu hybrid excavators already in use at construction sites in China and Japan.
In tests comparing the standard PC200LC-8 hydraulic excavator to the Hybrid PC200LC-8, the hybrid model reduced fuel consumption by approximately 25-40%, depending on the application. Powered by the Komatsu Hybrid System, the Hybrid PC200LC-8 uses a newly developed electric swing motor, power generator motor, capacitor and diesel engine. This revolutionary hybrid system works on the principle of swing energy, regeneration and energy storage using the Komatsu Ultra Capacitor system.
---
Komatsu America Corp. Demonstrates Its "Green" Hybrid PC200LC-8 Excavator in Los Angeles
Machine Surpasses Customer's Expectations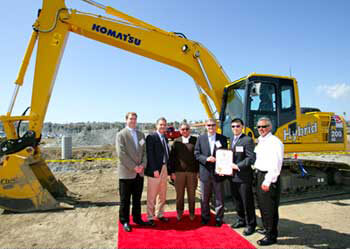 Late in 2009, Komatsu America introduced the first of ten Hybrid PC200LC-8 excavators into the U.S. market to test the innovative equipment that was designed to reduce environmental impact by saving fuel and reducing green house emissions. On March 11, 2010, representatives from Komatsu, along with representatives from the California Air Resources Board (CARB), the office of Los Angeles Mayor Antonio Villaraigosa, the contractor Griffith Company, and Savala Equipment Company, Inc.—which has been using a Hybrid PC200LC-8—gathered for a demonstration of the hybrid excavator at work at the Port of Los Angeles. Komatsu America Corp. was recognized by the Office of Los Angeles Mayor Antonio Villaraigosa for its commitment to green technology and its Hybrid PC200LC-8 Excavator. Chairman and CEO of Komatsu America Corp., Dave Grzelak, accepted the Certificate of Recognition from Los Angeles from Stephen Cheung, Vice President Mayor's Office of Economic and Business Policy, City of Los Angeles, and representative of Mayor Villaraigosa. "I want to recognize Komatsu and their partners for bringing this innovative technology to the City of Los Angeles and the Port of Los Angeles," Cheung said. "The Mayor has set a very high goal of greening and growing the port at the same time and this hybrid technology will contribute to both goals."

The Komatsu hybrid excavator is one of a number of other kinds of "green" machines that the Port of Los Angeles has introduced or tested, resulting in reduced diesel emissions that comply with a Clean Air Action Plan that was adopted in November 2006 by the ports of Los Angeles and Long Beach.

"We're really in the process of seeing a complete transformation of this port as well as the trucking and construction industries," noted Mary Nichols, Chair of the California Air Resources Board. "We're actually cleaning the air one piece of equipment at a time, and the machine being showcased today and others are going to help us meet our goals of energy efficiency and diversification of the fuel supply."

Brea-based contractor Griffith Company has seen positive results with the Hybrid PC200LC-8. Dan McGrew, VP of Business Development for the Griffith Company said that they were skeptical at first, but the hybrid excavator "surpassed all expectations while using 30% less fuel." McGrew noted that the hybrid excavator has a shorter cycle time than a conventional excavator, and concluded, that Komatsu's Hybrid PC200LC-8 is a "fantastic machine."

There are 700 of Komatsu's hybrid excavators already in use at construction sites in China and Japan. "Komatsu's decision to apply its engineering excellence to the largest construction machine segment clearly signals our commitment to developing environment-friendly equipment," said Dave Grzelak, chairman and CEO of Komatsu America Corp.

Powered by the Komatsu Hybrid System, the Hybrid PC200LC-8 uses a newly developed electric swing motor, power generator motor, capacitor and diesel engine. Komatsu developed its revolutionary hybrid system to work on the principle of swing energy regeneration and energy storage using the Komatsu Ultra Capacitor system. Komatsu's Ultra Capacitors provide fast energy storage and instantaneous power transmission.

In tests comparing the standard PC200LC-8 hydraulic excavator to the Hybrid PC200LC-8, the hybrid model reduced fuel consumption by approximately 25-40%, depending on the application.

HBPC215LC Specs « back to Connect with Komatsu